Wistron invests Rs 1,255 crore in Apple's India factory
With this, Wistron and Foxconn Hon Hai, the two vendors which have already set up factories for manufacturing Apple phones in India, have together invested over Rs 1600 crore.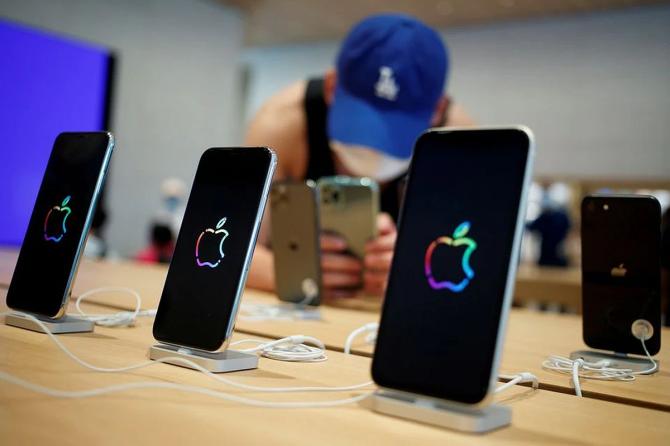 Apple Inc's leading contract manufacturer, Taiwanese giant Wistron, has exceeded its investment obligation in India in just eight months, although the government's production-linked investment (PLI) scheme allowed it to complete the investment in four years.
Between August 2020 and end March 2021, Wistron made an investment of Rs 1255 crore — 25 per cent more than the total investment it had committed to the government.
Under the PLI scheme for mobile devices, the government had stipulated that each of the five participating global companies needed to invest Rs 250 crore every year for the first four years, totalling Rs 1,000 crore.
With this, Wistron and Foxconn Hon Hai, the two vendors which have already set up factories for manufacturing Apple phones in India, have together invested over Rs 1600 crore.
Hence, they have collectively fulfilled 80 per cent of their investment obligation, which was expected to be completed in four years.
Apple's third contract manufacturer, Pegatron, has not set up a factory in India as yet.
The speed and quantum of investment is significant as it reflects Apple Inc's keenness to transform India into a major global hub for the manufacture and export of its mobile phones, so far concentrated in just one country –- China.
Apple, through its three vendors, is planning a mobile phone production value of Rs 340,000 crore in five years.
This accounts for 56 per cent of the entire PLI production target of the government for global players (Rs 600,000 crore).
What's more, 80 per cent of Apple's production value will be exported, which is much higher than the government's target of exporting 60 per cent of the phones manufactured under the PLI scheme.
Apple's other vendor, Foxconn Hon Hai, has also exceeded its investment target for the first year.
Sources say that it has invested a little less than Rs 350 crore already.
It is learnt that Foxconn is on a massive expansion plan and has several new factories under construction this year.
Foxconn is expected to put in a large part of its stipulated investment this year itself as it installs new plant and machinery in its factories under construction.
However, Wistron, Foxconn and Apple Inc did not respond to queries in this regard.
Wistron has already built a massive factory near Bengaluru and hired almost 10,000 new employees in November last year.
However, it had to halt production for nearly two months owing to some labour issues.
Wistron has not been able to meet its production targets — pegged at Rs 4000 crore — for the first year (2020-21) due to frequent lockdowns in Karnataka in the wake of the pandemic, the slowdown in the import of components post the Indo-China border skirmish in May 2020, and the factory shutdown during December 2020-January 2021.
The plan was that Wistron would manufacture the iPhone 12 Mini.
However, this was put on hold due to a reduced demand for the model across the world.
Foxconn Hon Hai already manufactures iPhone 11 and the latest iPhone 12 at its plant in Tamil Nadu.
The smartphone PLI companies had requested the government to declare Year 1 as a Zero Year since, in spite of massive investments and hiring and setting up new plants, they were unable to meet their PLI production targets on account of the pandemic and the Indo-China border skirmish, which slowed down component imports and the transportation of plant and machinery.
The Government of India also banned visas for Chinese engineers from November 2020 to April 2021.
And when the visas were released, the second wave of Covid-19 struck India, leading to production grinding to a halt once again.
Though all mobile manufacturing is expected to return to normal slowly, it may not happen before September 2021.
This will give companies around seven months of full production in the first year.
Finance Minister, Nirmala Sitharaman, on June 28 announced that the PLI scheme would be extended to six years, instead of five.
Companies are free to choose any five years. This should come as a big relief to nine out of the 10 PLI participants (Samsung is the only company which achieved its production target as it already has a plant with enough capacity) which were unable to meet their production targets in the first year.
Under the PLI scheme for mobile devices, the government has earmarked over Rs 41,000 crore as incentives on the production of phones (for global companies the incentive is for phones with an invoice value of above $200) for five years.
The five global manufacturers include the three contract manufacturers for Apple Inc, Samsung and Rising Star.
The five home grown companies, which include Lava and Dixon Technologies, are also eligible in the scheme but the conditions for investment and production value is much lower than for global players.
Source: Read Full Article