'We are at the beginning of a new bull cycle'
'We expect the bull run to continue until economic growth continues.'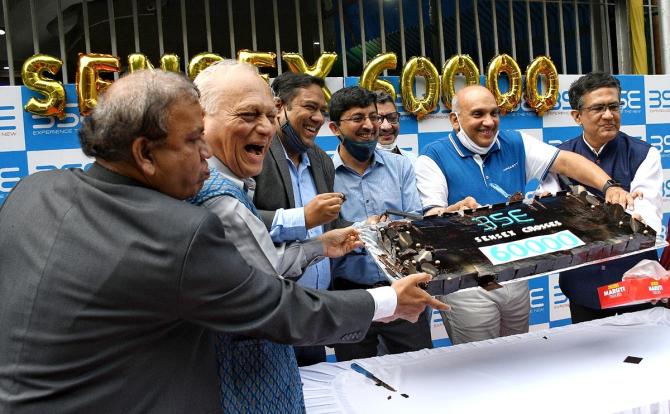 A new economic growth cycle has just begun in India, says Motilal Oswal, managing director and chief executive director, Motilal Oswal Financial Services.
In an interview with Samie Modak/Business Standard, Oswal says there will be ups and downs, but the bull run will continue.
What has propelled the domestic markets this year?
The Nifty has gained 30 per cent this year, so far. Strong global liquidity, recovery in corporate earnings, containment of COVID-19 cases, and significant pick-up in vaccinations have all contributed to this rally.
Friendly policy measures by governments and central banks across the globe have also boosted the overall mood. Macroeconomic indicators have seen a good recovery.
For instance, India reported its highest-ever exports during the September 2021 quarter — a new engine for growth.
In addition, India witnessed a normal monsoon for the third consecutive year which is likely to improve demand, especially in the rural segment.
What is your outlook for the economy and the market?
The rally seems far from over. I believe that we are at the beginning of a new bull cycle for the market.
Most of the macro data points indicate an improvement on a monthly basis and point towards economic recovery.
The IMF projects India's GDP to grow at 9.5 per cent in 2021, followed by 8.5 per cent in 2022 — the fastest growth in both developed and emerging markets.
Given this high growth and large domestic demand-driven economy, there is a strong interest among global investors to participate in the country's long-term growth prospects. This is well reflected in the strong foreign inflows we have seen this year.
As the economic cycle picks up, one can expect the corporate earnings growth to revive.
The government balance sheet is in good shape. We can expect the Centre to use fiscal measures to drive growth in months to come.
Even corporations have adopted various cost-containment measures, which helped them sail through the pandemic by improving upon their balance sheet, as well as cash flows.
The bull market will be driven by high growth in corporate profitability. Although there would be ups and downs in-between, we expect the bull run to continue until economic growth continues.
What are the key risks for the market at this juncture?
Given the sharp rally in the markets, valuations have become expensive, which can be sustained only through consistent earnings delivery. Rising energy and commodity prices, disruptions in global supply chains, and the US Fed taper are some of the factors that can also lead to higher global volatility.
So how should investors approach the market?
There is scope for some of the undervalued sectors, with good recovery prospects, to catch market interest. Banking and auto are two such sectors that have underperformed but have the potential to do well.
We are suggesting investors shift part of their portfolio from outperforming stocks to some of the undervalued stocks and sectors.
The best strategy would be to accumulate good fundamental and quality stocks gradually, whenever the market gives any correction. One should keep on reviewing his/her asset allocation as well as equity portfolio and rebalance it according to his/her investment style.
Can we compare the current market cycle with any of the previous cycles?
The current market cycle can be compared with (the one from) 2003 to 2008 that laid the foundation for growth. However, 2010 to 2020 was almost a lost decade for the India growth story and the markets.
GDP growth was low, corporate earnings grew in single digits, and bank credit growth came down from 20 per cent to 5 per cent.
Now, we are into the first year of a new growth cycle. The pandemic has unleashed and unlocked growth that was deadlocked for over a decade. The Air India sale and the LIC IPO are the two biggest reforms from the government. Successful Air India sale would now open the gate for a lot of other divestments. This will help India transform into a serious growth story.
Are bigger companies getting bigger and smaller ones being left behind?
Since the pandemic, this theory of the stronger getting stronger is playing out well and is reflected in intra-sector divergences.
Companies that have more resilient business models, are market leaders in their segments and have healthier balance sheets are the ones that have outperformed. They have been able to gain further market share at the cost of weaker players which were struggling to stay afloat.
Though even larger firms took a hit to their profitability, their leadership, wider presence, and strong balance sheet helped them expand further and grab market share from smaller unorganised players.
What are your thoughts on the IPO market boom?
More exciting times are ahead of us as several big companies have lined up their IPOs. It includes one of the biggest IPOs in India that of LIC. Also, companies — such as Paytm, MobiKwik, Nykaa, Policybazaar, GoFirst, Adani Wilmar — will keep the primary market buzzing.
The primary market has benefited from the buoyancy and the broad-based rally in the secondary market. The surge in liquidity has also helped the cause.
Good listings have boosted investor confidence towards the primary market.
Source: Read Full Article