Lockdown effect: 'Truckers lose Rs 1,800 cr daily'
'The government is saying that essential commodities are exempted, but on the ground there is no competent officer from the government who can say which is an essential commodity and which is not.'
Around 6 million to 6.5 million truck drivers have been left high and dry without any help as India enters day four of its 21-day lockdown in an attempt to fight the coronavirus pandemic.
Trucks, even the ones carrying essential goods, are not being allowed to move following the government's orders to seal state borders and checkposts.
Furthermore, those who are on the road are left starving and thirsty as dhabas and roadside restaurants are shut.
"We fear the drivers will run away as we don't know how long they will stand next to the trucks without food and water," Balmalkit Singh, chairman, All Indian Motor Transport Congress, tells Syed Firdaus Ashraf/Rediff.com.
What is the situation for truckers due to the coronavirus crisis?
The situation is very bad for truckers. All the trucks are standing idle at state checkposts or national highways. All roadside eateries and dhabas are closed. The truck drivers are not getting food and drinking water too.
How many trucks are parked on the roads?
At present around 60 to 65 lakh (6 million to 6.5 million) trucks are stuck across the country at various locations.
The government is saying that essential commodities are exempted, but on the ground there is no competent officer from the government who can say which is an essential commodity and which is not.
But…
(Interrupts) Drivers are leaving vehicles at check posts or wherever they are. They are moving to safer places away from trucks.
High-value consignments are lying idle on roads. This can create trouble because local goons can take advantage (and steal the goods).
What we are suggesting to the government is that camps be made every 200 kilometres on the state and national highways where trucks must be allowed to park.
Basic safety must be given to the goods in the trucks and also to the drivers.
And from there onwards what is essential items in the trucks that must be allowed to move.
Is there a list that the government has given to you stating which are essential commodities?
Nobody is adhering to that list. I have a notification from the Gujarat government and Maharashtra collector that some PPA powder is there which is essential and required for manufacturing of clothing for mask and gloves.
That vehicle too is halted by officers on the ground. These officers are not willing to see the details of the notification and only tell truck drivers, 'truck laga de side mein (park your truck on the side of the road)'.
And what about food items?
That too has come to halt. Mandis have shut. Labourers have left.
Even for food grains, where are the labourers to unload it from trucks?
And who will transport food grains to retail stores? There is no manpower.
Have you met government officials to apprise them of this situation?
We have mailed them and also tweeted about our problems. Communication is going on at the moment though.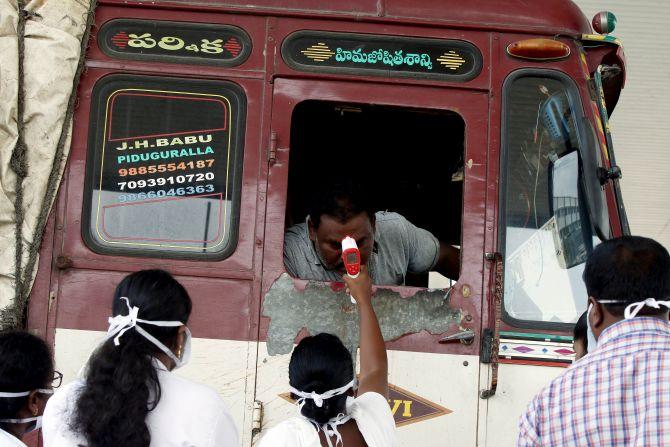 The government has announced that there is no toll for every vehicle, isn't it?
It is a good move, but there is no movement of vehicles at toll plazas. No cars, buses or heavy vehicles are passing through toll plazas at the moment.
In a day, how many trucks move in India?
There are around one crore (10 million) vehicles across the country. We assume 20 per cent are idle and not running on roads. Say another 10 per cent are in garages for repairs. So, at any given point there are 60 to 70 lakhs (6 million to 7 million) of trucks on the road in India.
How many trucks do you personally run and where are they?
I have 350 trucks and all of them are standing on the roadside at different points across the country. Eighty per cent of them are loaded and 20 per cent are empty.
The loss is huge.
What would be the total loss to the truck industry?
The truckers will lose around Rs 1,800 crore daily due to the coronavirus crisis.
What should we do to come out of this situation?
We have forwarded our suggestions to the prime minister's office, ministry of road transport, finance minister and the respective state governments. We are hoping that this will be solved in the next four days.
We will streamline hopefully by then, but we should not be too late.
We fear the drivers will run away as we don't know how long they will stand around next to the trucks without food and water.
Source: Read Full Article